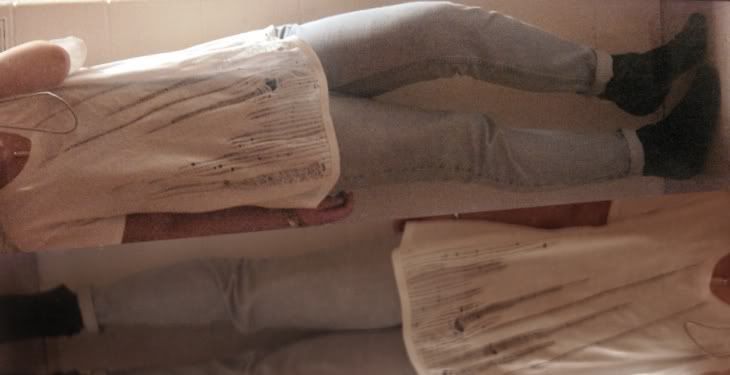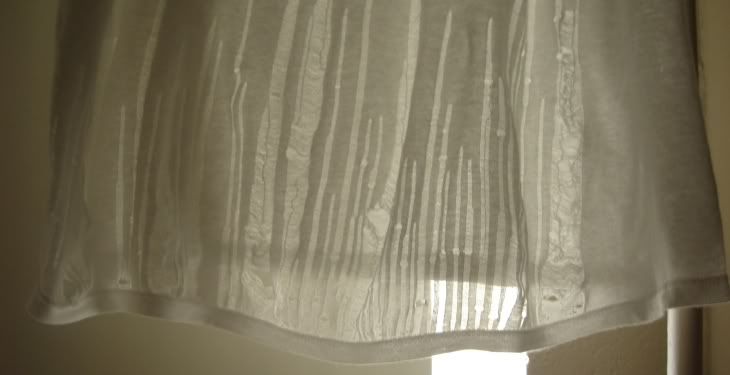 Following in the footsteps of a number of inspirational sources including
Rodarte
,
Raquel Allegra
, and Childhood Flames's
endeavor
, I decided to try my hand at distressing and shredding your typical Fruit of the Loom tshirt. With knitting needle in hand and not much else, I went to work. And what you see are the results, which I must say I
liiiiike
. I would definitely do this to tshirts in a rainbow of colors, ok no, namely grey, white and black, but its ez!
Can I just say that with the right amount of practice and maybe a seam ripper (
read:
must remember for the next attempt), this little do-it-yourself just goes to show that $500 tshirts are not really necessary if you have some spare time on your hands. If not the case, then by all means, drop the 500 dinero.
In other awesome news, I just found out there's rumored to be secret tunnels and passageways that lead from my dorm all the way to North campus, about 2-3 miles away. No one really knows where they are, and the one man that was shown them was sworn to secrecy and only gave vague details. A quick search on the Internet has yielded little information. Oh and there are secret societies, also? This shit just intrigues me...
Shirt, DIY Fruit of the Loom. Tank, Rogan for Target. Jeans, Levis. Shoes, Dolce Vita courtesy of
Solestruck.com
(a big
thankyouuu
to Danielle!)